1. Introduction
Eggs are a versatile and nutrient-dense food that can be used in many healthy recipes. They are an excellent source of protein and are low in calories, making them a great addition to any diet. Here are 5 top egg healthy recipes that you can try at home.
2. Eggs benefits:
1. Protein each egg contains 6 grams of protein with different amino acids
2. Nutrition Rich as you know eggs are full of vitamins like (A , D & E), calcium, selenium HDL cholesterol, and also Omega 3
Probably most of us are getting tired of eating eggs every morning, despite the health benefits of eggs, it is too boring to cook them the same way every day that is why here we are giving you some ideas which will make your morning eggs something to look out to.
We review our products here extensively. As an affiliate, I may earn from qualifying purchases.
3. Eggs Recipes
3.1 Eggs Pancake (American Cuisine)
Ingredients
Directions
1. Per pancake (2 eggs)
2. Flour (Oats or rice)
3. Vanilla extract
4. Banana or blueberry for flavor
5. Sugar-free maple syrup or Caramel
for toppings
1. Blend all the ingredients with a hand blender
2. On medium heat put your non-stick pan
3. Spray your PAM oil or no spray at all
4. Add your mixture to the pan and leave it for
3 minutes each side
Eggs Pancake recipe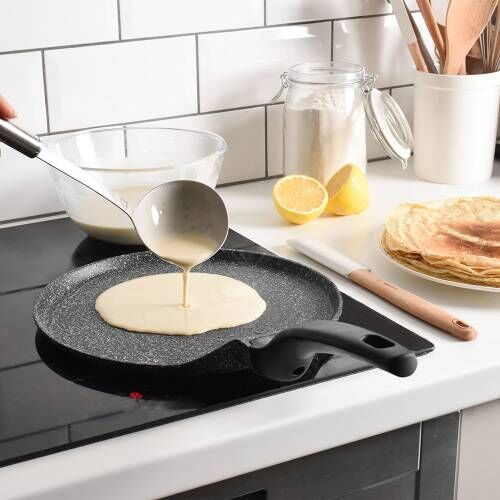 check out the best granite pan HERE
3.2 Baked Eggs (Italian Cuisine)
Ingredients
Directions
1. Whole Wheat Baguette bread
2. 5 Eggs
3. 4 ounces of Fat-free mozzarella cheese
4. 10 ounces of low-fat sausages
5. 1 large chopped onion
6. 2 chopped garlic clove
7. Chopped tomato
8. Chopped red peppers
9. Fresh Oregano, salt, and pepper
1. preheat oven to 400 degrees F
2. In a cast iron skillet pan add the sausage and cook, stir on a medium heat
4. Add the Onion and garlic stir and cook until brown
5. Add the tomato and stir then add all the spices
6. Add all the ingredients, then add the eggs and mozzarella on top
7. Bake for 10 minutes
8. Serve
Italian Baked eggs
Check out the best-cast iron skillet HERE
3.3 Tortilla Baked Eggs (Mexican Cuisine)
Ingredients
Directions
1. Two Tortillas
2. 2 Large chopped garlic cloves
3. 1 Large chopped onion
4. 500 grams of chopped tomato
5. Red kidney beans (Optional)
6. Chopped red peppers
7. 1 hot chili chopped (Optional)
8. 1 diced Avocado
9. 1 Fresh coriander leaves
1. preheat oven to 400 deg F
2. Put the Tortillas on a baking tray
3. Add pam on a nonstick pan /granite
or cast iron and onion fry till brown then
add kidney beans and tomato, pepper,
Chilli and Garlic
4. Add the rest of the ingredients on top to a baking
pan and put in the oven for 10 minutes
5. When finished add the coriander leaves ,avocado
on top and serve
Mexican egg tortillas
3.4 Shakshuka (Middle Eastern Cuisine)
Ingredients
Directions
1. Chopped Onion
2. Diced Garlic
3. Chopped tomato and tomato sauce
4. Chopped red pepper
5. Chopped Chilli pepper
6. Chopped Broccoli (optional)
7. Parsley
8. 5 eggs
9. Salt, pepper, and cumin
1. On medium heat bring a non-stick frying pan
add the chopped onion and garlic
(PAM spray/ or nothing at all) and cook till brown
2. Add the tomato and tomato sauce and
cook till the mixture is very soft then add the broccoli
3. Add the scrambled eggs then salt , pepper and cumin
4. Add the Parsley on top and serve

Shakshuka recipe
3.5 Frittata (Italian Cuisine)
Ingredients
Directions
1. 6 Eggs
2. 1/4 skimmed milk
3. Fat-Free Philadelphia cheese
4. 3 sliced green onions
5. Chopped green pepper
6. Salami
7. Fat-free parmesan cheese
8. Salt and pepper
9. Thyme
1. Pre-heat oven to 350 deg F
2. Whisk half of the milk with the Philadelphia
cheese until blended
3. On medium heat add all the ingredients
except for the parmesan and stir for 5 minutes
4. Bake for 20 minutes then Add parmesan on
top and bake for another 3 minutes
Frittata recipe
Conclusion
Eggs are an incredibly versatile food that can be used in a variety of healthy recipes. They are an excellent source of protein and are low in calories, making them a great choice for anyone looking to eat a healthy diet. Try out these 5 top egg healthy recipes and see how delicious and nutritious they can be!
FAQs
Q1. Are eggs healthy to eat?
Yes, eggs are a healthy food choice. They are a great source of protein, vitamins, and minerals and can be part of a balanced diet.
Q2. Can I eat eggs every day?
Yes, you can eat eggs every day as part of a healthy diet. However, it is important to balance your intake with other nutrient-dense foods.
Q3. Can I use egg substitutes in these recipes?
Yes, you can use egg substitutes such as tofu or egg replacer powder in these recipes if you are allergic to eggs or prefer a vegan option.
Q4. How can I tell if an egg is fresh?
You can tell if an egg is fresh by placing it in a bowl of water. Fresh eggs will sink to the bottom, while stale eggs will float.
Q5. Can I freeze eggs for later use?
Yes, you can freeze eggs for later use. Crack them into an airtight container and freeze for up to 6 months. Thaw in the fridge before using.
Bodyguider.com participates in the Amazon Services LLC Associates Program, an affiliate advertising program designed to provide a means for sites to earn advertising fees by advertising and linking to Amazon.com. Amazon and its logo are trademarks of Amazon.com, Inc. or its affiliates.